Client Service Associate—Irving, TX
Christopher Lambert
Chris decided to join Cadent Capital because he says it felt like a family. He saw firsthand that they were a group of people that he could trust and knew that clients would feel that way, too. Growing up playing hockey, he loved being part of something bigger than himself, which drew him to working in a team-based model where everyone can leverage one another's skills. He was also attracted to the opportunity to learn from some incredibly knowledgeable individuals in order to better serve his clients today, tomorrow, and for years to come.
One Piece of Advice
"Don't treat investing the way you treat a lottery ticket. Successful investing isn't random or instantaneous, and there isn't just one winning ticket!"
Why I Pursued a Career in Financial Planning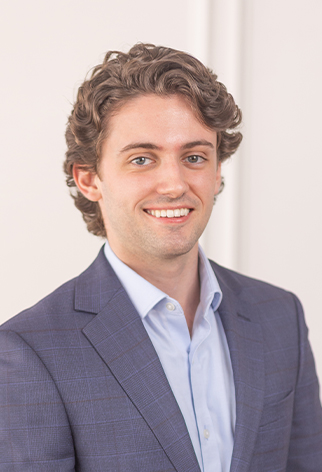 Chris has always enjoyed learning about the complex world of personal finance, and he initially became interested by simply following the stock market. Studying finance in college made sense to him-- it was a topic that he knew he would use in his own life and could leverage to help others. As an extroverted person, he really enjoys meeting people, understanding where they are coming from, and helping them get where they want to go. Financial planning gives him a way to leverage both his emotional and conceptual intelligence all while being able to improve people's lives.
My Career & Credentials
Chris attended Clemson University and graduated with a B.S. in Finance with a minor in accounting. While there, he played men's hockey, was a member of Alpha Sigma Phi, and served on the executive board of Clemson's Wall Street South Investment Club. He went on to work at Vanguard in the Emerging Leader Development Program prior to joining our team. Today, he has his Series 7 and Series 63 licenses.
Life Away From the Office
Chris grew up in Westfield, NJ, where his parents still reside, and he has an older sister that works in New York City and a younger sister that attends Miami University in Oxford, OH. His family is completed by a mini goldendoodle named Cooper.
He's an avid New York sports fan, with the New York Rangers being his favorite team. Beyond this, he loves to exercise, fish, and cook. He's currently trying to pick up golf (working on fixing his slice) and enjoys spending time at the beach in New Jersey with his family. Having just moved to Dallas after living in Charlotte, NC for a year, he also dedicates lots of time to exploring the city, trying new restaurants, and making friends.

Raymond James is not affiliated with any of the organizations mentioned.